I had the opportunity to review this nifty little gadget a couple of months ago and, well, then the winter rains came, as they do in the Australian High Country, so I waited a while so i could do something in a grand location of which there are plenty here, and waited, and more rain came down, and I waited, waited...
Well, finally today after 50cm of snow fell in the mountains in the last two days as well as snow on the surrounding hills just 2km away, roads closed, and with another 50cm or more predicted for the rest of the week in the ski resorts, I scuttled outside when I saw a break in the rains and gave it a serious go.
The Veho Muvi X-Lapse 360 adds an extra feature to your time lapse videos - it pans up to 360 degrees in an hour.  It looks like a funky egg timer and is best suited to lighter weight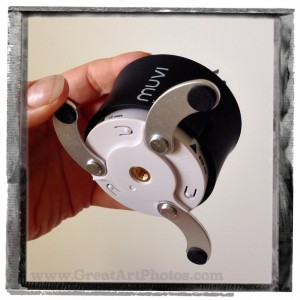 cameras and smartphones.  I was not game to put my Canon5DIII on it, but the iPhone is perfect - also because you can just download a time-lapse app instead of buying time-lapse equipment for a DSLR.  It's brilliant and a lot of fun.
I actually had little experience with time-lapse photography till the Muvi came along, and the only technique to master here (apart form calculating the amount of shots and in what increments) is to manage to keep the horizon line level.  As you can see in this vid that it went a bit off kilter at the end and, well, the rains were on their way back in so I couldn't reshoot the 470 photos at 3 second intervals for half an hour...
The Muvi X-Lapse can mount on any tripod and also has cute little slide out arms for stabilising if you are placing it directly on a surface on its own.  The smartphone clip that screws into the camera mount at the top is a bonus as you can remove it and use it anywhere you need to mount your iPhone with a tripod.  I had only just invested in a tripod mound for my iPhone and this one would have done the trick.
What I did:
iPhone App:  Timelapse option on the Camera Awesome App by Smugmug (free)  - set to 3 second increments
Camera:  Iphone 5 - full of battery charge and lots of spare memory for hundreds of photos
Panning:  Veho Muvi X-Lapse 360 set to 30 minutes for a 180 degree pan
Editing:  Imovie - 470 images set to .1 or .2 seconds each
Where to get it:  http://www.mobilezap.com.au/37611-veho-muvi-x-lapse-360-rotating-camera-mount-Reviews.htm
Comments and Questions...